Surreal Systems love what we do and are committed to high quality workmanship with professional, attentive staff. Our goal is to make every customer experience and interaction the best it can be. We thrive on change and our people continually receive training and education so we can help you navigate the latest technology and provide the right solutions for your needs.
Our people make the difference.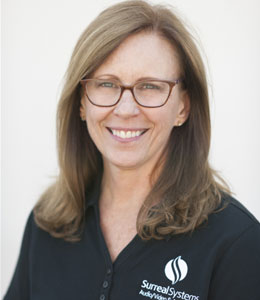 Carrie W.
Office Manager / Administrator
Administrative tasks have always been part of my life, it just comes with the territory when you have a family. Make it a large family (5 kiddos), and homeschooling (20 years), and and a husband who traveled 90% of the time and you have to be able to organize and execute or the place falls to pieces. Comparatively, my job a Surreal Systems is a piece of cake.

Your Passions: Family is number one, but a close second is animals. We currently have a foster failure, (that's what you call a foster animal that you decide to keep for yourself), a 5 or 6 year-old Chocolate Lab named Piper, who is a trained therapy dog and sometimes comes to work with me to hang out.

Why Choose Surreal Team: We do right by our customers, vendors, partners and team. I wouldn't work here otherwise.

A personal thank you: Thank you to Matt for taking a chance seven years ago and hiring me after being out of the work-for-pay workforce for 20 years. Remember when you asked if I would be working at least a year?

- Carrie White
Tyler D.
Project Manager
I have been in this industry for over 6 years and have learned a lot in the process. I enjoy watching technology change and get excited to see how it can enhance people's lives by providing entertainment and creating conveniences they never knew were possible. I enjoy watching and playing all kinds of sports. I love to be a part of or watch a good competition of any sort. I cherish my time with the people I love and will take any chance to spend time doing almost anything with them. I am also always interested in learning or trying something new.

What I love about Surreal Systems over other companies that I have had experience with is the integrity of the people who make up the company. Doing right by our customers is something all of us take very seriously. I love that we don't back down from challenges, run from problems, or put our own financial goals above what is right for our clients.

Thanks to all of our ecstatic customers that have recommended us to their closest friends and family and helped us to become what we are today!

- Tyler Douglas
Rojelio V.
Service Technician
I have been installing A/V solutions since January of 2015, but working at Surreal Systems I feel that my knowledge is much greater than that. Prior to that, I installed car audio for seven years. Bringing my experience from the car audio world made it easier to understand some of the foundation of A/V. I always look forward to making someone else's A/V experience amazing and stress free in their home or business.

I love spending time with my family, especially with my wife and son. We like going to the park, family parties, or just having a BBQ at home. When I'm not with my wife and son, I am hanging out with friends watching sports, listening to music and shooting some pool.

Working at Surreal Systems has shown me the potential that homes can have with technology and how to make a great house into an amazing. The best reason why I choose Surreal Systems is because I work with a great group of people that have qualities that I've never come across before. We work together as coworkers, friends, and even family.

Thank you to all of our clients for your loyalty and and support.

- Rojelio Valdivia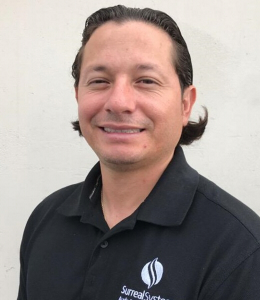 Rene M.
Installation Technician
With 10 years of experience in custom system integration for residential and commercial projects, I install solution-based systems focused on project needs. I have earned a CEDIA certification as well as manufacturer's certifications along the way. Technology today is about integrating with smart devices that make your home more convenient, comfortable and safe! Surreal Systems will provide you the solutions in today's high-tech lifestyle that make your world a little easier Thank you to all of our amazing clients for their business and referrals without you we would not be here.

- Rene Martinez
Brian B.
Owner
For as long as I can remember I have had a fascination with technology, always taking things apart to figure out how they work, and making things work better or different along the way. My first technology job was right out of high school in 1997 as an installation technician for a local home theater company, rising quickly through their ranks I got to experience the business side of technology as well. Since then I have worked with the most advanced home technologies in various capacities, currently maintaining a few CEDIA certifications along with numerous manufacturer certifications. I am proud that Surreal Systems is a reflection of our experience and knowledge gained from hundreds of successful projects over the years, and the contributions of many team members. I have a passion for great sound and picture, and simplicity through thoughtful control system design. On my time away from work I enjoy pursuing my private pilot's license, camping and spending time with my 3 boys ages 7, 12 and 16 Surreal Systems is a team of dedicated individuals who actively make decisions in the best interest of our clients, to ensure projects are delivered beyond expectations and without compromise. Our team of professionals is what allows us to take a stack of disparate equipment, and cleverly integrate these parts into a cohesive system that blends well into a space and performs even better. I appreciate the scores of clients and partners who have recommended Surreal Systems to their friends, family, and colleagues over the years.

- Brian Beck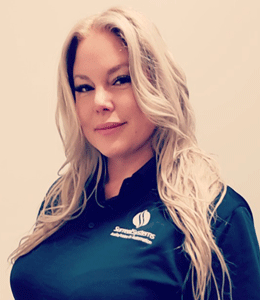 Jessica K.
Director of Sales
Why did I choose Surreal Systems? The company is a family owned company where all the employees work like a well oiled machine. The company puts there employees first because, If you take care of your employees we will take care of our clients with the same reciprocation! This is a quote that I loved growing up.."You can dream, create, draw and, come up with the best ideas in the world but, you need people to help you turn your dreams into reality.".. Walt Disney. That in a nutshell is what we do here! I have been in the sales industry for 24 years, this job really incorporates everything I love. I get to work with a great coworkers, meet with clients/contractors/Architects to design custom proposals, my job is pretty much the icing on the cake... I am originally from the East Coast, Connecticut. California became my home 17 years ago, you can't beat this weather out here, though I do love the snow! We fly back at least once a year to get our fill of sking in the snow, visiting the Big Apple and, consuming as much Lobster/seafood and pizza as possible! My family is of the utmost importance to me, we are adventurous we love to camp, bowl, scubba dive, travel, spend time on the water, learn new languages and, discover new foods! I look forward to working with you!

- Jessica Kerr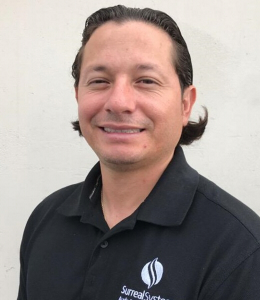 Paul R.
Head Engineer
Bio to follow
- Paul Radford